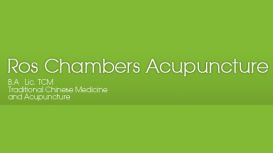 As a fully qualifed Belfast Acupuncturist and practitioner of Chinese Medicine, Ros provides alternative medical therapies at Synergy Healthcare Belfast and University Clinic Jordanstown.
Registered with the P.R.T.C.M., Ros graduated from the Irish College of Traditional Chinese Medicine in Dublin. She has gained invaluable practical experience in hospital clinics in Nanjing, China and has studied facial rejuvenation with Virginia Doran, electro acupuncture with Dr. Lee, Pregnancy and Childbirth with Debra Betts, Infertility with Dr. Lily Hua Yu and Japanese Acupuncture with Kiiko Matsumoto.
---
Services

What is acupuncture?
Acupuncture is part of an ancient and sophisticated form of medical treatment which originated in China, but has increasingly spread throughout the world. It involves the insertion of extremely fine, hair-like, pre-sterilized, stainless steel needles at pre-determined points on the body surface (known as acupuncture points) to restore internal health.
In the hands of a fully qualified professional practitioner the use of acupuncture is entirely safe and free of any harmful side-effects. It has stood the test of time over several thousands of years and has not been found wanting. Acupuncture can be used alone or combined with other forms of Traditional Chinese Medicine (TCM) treatment such as herbal medicine or Chinese massage called tui na.
How does acupuncture work?
Acupuncture if performed properly can bring the body into balance and assist the healing process through the regulation of qi - energy, blood and fluid in the body. Acupuncture removes blockages; stimulates the immune system; harmonises emotion; improves blood flow; reduces pain and inflammation and stimulates healing in the body's tissues.
Does acupuncture work - how many treatments will I need and how often?
This depends on each individual case. Responses to treatment do vary from person to person and will depend on the nature of the condition being treated. Many people with acute conditions experience a real improvement in symptoms very quickly. For people with longer term and more complex cases change can be more subtle and usually require more treatment over a longer period of time. Initially most patients attend for acupuncture on a weekly basis. As symptoms improve so the interval between treatments is extended. Most people notice some improvement after 2-4 treatments. Progress and frequency of appointments is regularly reviewed at each treatment.
Does acupuncture hurt?
Acupuncture needles are extremely fine and very different to the needles used when, for example, having blood taken. When an acupuncture needle is inserted some people can feel a tiny pin prick. The sensation patients do feel when the acupuncture point is reached is usually described as a dull ache or tingling sensation followed by a feeling of relaxation.
Reviews and Ratings
We do not have any reviews about Acupuncture Clinic available right now.