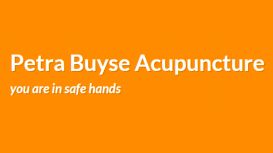 Ac., B.A. (Hons) is a Traditional Acupuncturist and the proprietor of Mandarin Clinic. She has studied at the College of Traditional Acupuncture, Warwickshire and graduated with a First Class Honours Degree. With an NHS Therapy career spanning for over 18 years, Petra also has an extensive understanding of western medicine. Petra is a member of the British Acupuncture Council, the UK's leading regulatory body (accredited by the Professional Standards Authority) and abides by strict Codes of Ethics and Safe Practice. Petra's main areas of experience are in Fertility, Pregnancy and Women's Health. Most of her post-graduate training as an acupuncturist is with leading specialists in these fields such as: Zita West, Debra Betts, Jani White and Sarah Matheson.
---
Reviews and Ratings
My acupuncture appointments were a lifeline for me in my path to pregnancy. The time to focus on me, both body and spirit always left me uplifted and gave me hope when times were tough. Petra was a calm and supportive influence at all times and the clinic is relaxed and friendly. I firmly believe that Petra and the acupuncture I received helped me to become a mother at last to my 2 gorgeous twin boys.
Just thought I would let you know that we welcomed our little girl and boy into the world. 2014 could not have finished in a better way! Thank you so much for all your support and expertise from the very start to this very special time.