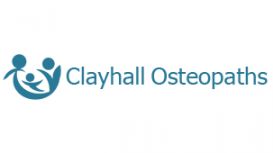 Clayhall Osteopaths offers safe, gentle, hands-on treatment for a wide range of conditions, enabling you to recover more rapidly from injuries, relieve pain and restore mobility. With four experienced practitioners, each with a different speciality, we offer a complete range of Osteopathic treatments for a broad range of symptoms and conditions.
In addition to treatments for acute and chronic musculoskeletal problems, such as back pain and neck pain, we also have particular expertise in Osteopathy for pregnant mothers, babies and children, and in Osteopathy for general healthcare. We utilise a wide variety of treatment approaches including structural Osteopathy and Cranial Osteopathy.
Our team of therapists is highly skilled and believes that providing the best service depends on obtaining the most accurate diagnosis so that we can design a treatment plan according to your needs and goals. We combine Osteopathy with Acupuncture, Exercises and other services for the best results and our message is that prevention is key to a healthier you.
---
Reviews and Ratings
We do not have any reviews about Clayhall Osteopath available right now.