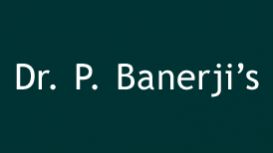 Dr. Paramesh Banerji belongs to the third generation of one of the oldest homeopathic practitioners' families of the world. It was started as early as 1918 by Dr. Pareshnath Banerji who served millions of prescriptions by offering free medical care through his charitable Homeopathic Clinic in Mihijam. This was continued by his son, Dr. Parimal Banerji, who discovered and created the Science of Advanced Homeopathy. He converted homeopathy from an art to a science through his extensive research. Many homeopaths across the world have been trained under him, who have adopted this Advanced Homeopathy as the basis of their practice.
Maharshi Dr. Pareshnath Banerji: Dr. Pareshnath Banerji had set up his charitable Homoeopathic clinic at Mihijam in 1918 and served millions through free medical care and contributed almost all he had to the welfare of the people.
---
Reviews and Ratings
Dr Banerji, I must tell you one more incidental improvement that your medicines have given me. I did not mention but i had terrible joint pains in my knees and ankles and random foot pains from years of twisting my ankles. i am double jointed so sometimes when i wear high heels i would fall. however, i dont know if it is the 33 or the 48 but i am pain free! i can even go for long walks again and my restless leg syndrome went away. and my scoliosis is a non issue right now. Thank you.
Dear Doctor, I wish to inform you that there is significant improvement in my health condition. There is an occasional pain in the sole, however, the numbness has gone. The scietic pain still persists, although the intensity is less, in the left leg. Would you please advise me the dosage now that i should continue with?