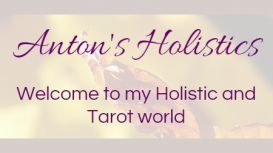 I have been providing professional Tarot readings for over 10 years and a Tarot enthusiast for much longer! I do not like labels and so I define myself as an eclectic/solitary witch with Pagan tendencies.; I am a qualified Life & Psychic Coach, Reiki Healer (Usui method) and Angel Healer. I love reading Tarot intuitively and use the cards personally for growth and guidance in my day to day life. Recently I have added Dream Interpretations to my services as it is a subject that has fascinated me for years and am very happy to be finally able to tackle it!
I am looking to also expand the Psychic development for beginners course eventually and offer an advanced course and am looking into one to one classes. Working with my Spirit guides and channeling spirit I also create what I like to call "soul paintings". I offer this as a commission based service mainly requiring 2 to 3 weeks to complete. I also create personalized clearing essences. These come in 50ml bottles.
Contact Details
Holistic Lightworker (Tarot Holistics)
31 Baldwin House
Brixton, South West London
SW2 3BZ
Get Directions
Show map
---
Reviews and Ratings
We do not have any reviews about Holistic Lightworker (Tarot Holistics) available right now.