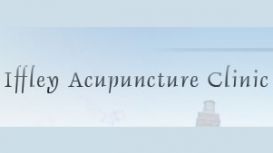 The Iffley Acupuncture Clinic offers a comprehensive range of therapies including acupuncture, Tui Na massage, Chinese herbal medicine, and also health education in Chinese dietary therapy, nutrition, lifestyle and health promotion.
Situated on one of the main routes in Oxford, the acupuncture clinic is easily accessible and parking is available. We operate within normal working hours but also maintain some early morning, evening and weekend appointments. Prices are competitive and adjusted according to circumstances but also reflect the quality of treatment.
Jonathan Bruce the resident practitioner has been in service since 1987. He has in turn both a long-term experience of working with a wide range of people and an in depth knowledge and understanding of how best to treat them. Jonathan is a member of the British Acupuncture Council and in turn, bound by a code of safe practice and ethics.
---
Reviews and Ratings
I first visited JB with a badly inflamed intercostal muscle. I was unable to draw breath without pain. My GP told me that nothing could be done and it would gradually improve over a period of six weeks. JB treated me and I was pain free the next morning. That was my first experience acupuncture. I remain convinced of its benefits because it is clear to me that it recognizes the interconnectedness of everything; it treats the whole being rather than merely smothering the symptom to the eventual detriment of all the vital organs.
Jonathan's expertise and experience make him an accomplished and trust - worthy acupuncturist/therapist/healer. I knew I was in safe hands and his thoughtful and attentive care, not only bought me back to health but taught me how to look after myself better.