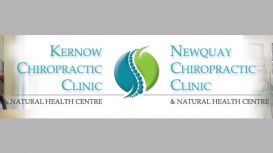 I enrolled in 1991 at Europe's only chiropractic college – AECC, which is a prestigious ground breaking institution with its own research faculty for the UK profession, dissection labs, ex-surgeons teaching anatomy, neurologists teaching us about the nervous system and an array of exceptionally skilled chiropractors from around the world.
I arrived in the UK with little money and hope alone, for what was then a private education. Having qualified in 1995, I moved with my wife and a very large student loan to Penzance, tempted by an ad about surfing and having a healthy country lifestyle, as opposed to city work. I have a strong drive about chiropractic and a passion for sharing its message of natural health, so starting a business where chiropractic was little heard of was an adventure.
As chiropractic is a drug-free approach to optimum spinal health and wellbeing, coming from South Africa where I witnessed sangoma (african tribal medicine) on one hand and western medicine on the other, I felt chiropractic was the optimum middle ground between these professions, where I could work with my hands naturally, yet in a medical type setting.
---
Services

To help you familiarise yourself with our clinics before you arrive here are some useful tips below.
A warm welcome is something we pride ourselves on.
In the reception area there are complementary drinks and magazines for your enjoyment while you wait.
Please feel free to fill in our patient questionnaire by printing the form at home (see links at the bottom of this page) and return to us at your convenience, or you can fill one in on your first visit but you will need to arrive a little earlier than your appointment time in order to complete the form.
Please find below a running order of how your first visit will go with us. We hope this will help you understand what to expect on your visit.
Please feel free to contact us with any questions you may have. We are always willing to help and give advice where we can.
Our reception staff are Caroline and Vycci in Newquay, and Jane in Truro.
Your first visit:
When you meet your chiropractor for the first time he/she will start with a discussion about you, your health and your reasons for asking for chiropractic help. As mentioned you will have to fill out a questionnaire which will ask you for information about your presenting complaint and your past health history.
Some of the questions may appear irrelevant, but they are extremely important to your chiropractor. To ensure that chiropractic care is appropriate for your condition he/she needs to establish an overall health picture. Your details are confidential. No one else will be allowed to see your notes without your permission.
Examination:
Once your case history is complete, your chiropractor will examine you to confirm any early ideas about your problem. The examination will check your neuromusculoskeletal system (nerves, muscles and joints), but it may also be necessary to check other things such as your heart, lungs and abdomen to rule out other causes; this thorough check up is a normal procedure in a chiropractor's clinic. At this initial consultation and examination it may also be decided you require an x-ray to confirm the examination findings and to see what state your spine is in before using manipulation.
Reviews and Ratings
Mike, many thanks for all your help over the last weeks, my back is so much better now, I have seen quite a few chiropractors in the past and for the first time I have found relief. Thank you so much.
Thanks so much for all the help with long - standing problems. Nothing personal but hope not to see you too much more! Seriously, the treatment & advice have been great & I'm getting fitter & stronger all the time.