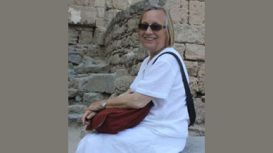 I look forward to hearing from you to discuss how aromatherapy, reflexology, massage, Dr Vodder Manual Lymphatic Drainage [MLD], or Deep Oscillation Massage Therapy with Hivamat 200 can suit your individual treatment requirements.
Marie-France arrived in England in the 1960s to complete her research for her doctorate on English Workhouses, and after completion chose the path of complementary medicine. All the therapeutic seeds were planted in Marie-France when at fifteen she suffered from anorexia, and received the soul destroying French orthodox treatment in a Paris mental asylum.
Now that she has healed herself completely, and has learned so much in the process, she is very keen to help her patients help themselves through breathing, exercises, diet, her unique aromatherapeutic preparations and simple vertical reflexology on hands. The common factor of all the therapies is that they help the body heal itself, balance the mind, and heal the emotions at all stages of life.
---
Services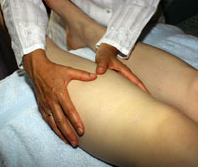 Dr Vodder's Manual Lymphatic Drainage (MLD) is an advanced therapy in which the practitioner uses a range of specialised and gentle rhythmic pumping techniques to move the skin in the direction of lymph flow.
This stimulates the lymphatic vessels which carry substances vital to the defence of the body and removes waste products. The first visit will include a consultation and the therapist will outline the number and frequency of sessions.
Each MLD session will last approximately one hour. Where appropriate, the therapist will work in conjunction with your medical practitioner.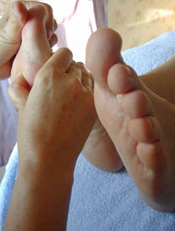 Reflexology is a powerful complementary medicine therapy based upon the principle that there are reflex areas in the both the feet and hands that correspond to all the glands, organs, and parts of the body.
How Does Reflexology Work?
Our bodies are endowed with a wonderful self-healing potential. Sadly, this potential often remains unfulfilled because the vital energy pathways are blocked by illness, stress, congestion, injury, and toxicity.
By applying a constant and alternating finger and thumb pressure to the feet and hands, the reflexologist induces a prolonged state of deep relaxation.
Through relaxation, the body returns to a state of balance (known as homeostasis), as the energy flows freely from fingers and toes to the head, and only then can the body heal itself.
Reviews and Ratings
We do not have any reviews about Marie-France Bewley available right now.