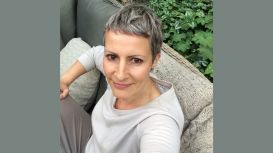 Sandy Steele has been practising acupuncture in central Oxford since 2003. She graduated from the College of Integrated Chinese Medicine and became a member of the faculty there in 2006.
In 2015 Sandy set up Bonn Square Therapy Room to provide a peaceful and accessible treatment space in central Oxford. Sandy has special interests in pain management, mental-emotional issues, women's health including fertility and menopause.
Contact Details
Sandy Steele Acupuncture
Bonn Square Therapy Room, New Road Baptist Church, Bonn Square
Oxford, Oxfordshire
OX1 1LQ
Larger Map
Get Directions
Services
£70 initial consultation and first treatment £45 follow up treatment
Acupuncture, cupping therapy, moxibustion, guasha therapy.
Reviews and Ratings
I am so grateful to Sandy. She is a wonderfully fun and professional acupuncturist, who has opened my eyes to alternative forms of healing, which has made the biggest difference to my life. I would recommend her to anyone with five shining stars!!!
Superb acupuncture practice - cannot recommend more highly. Have seen not just Sandy but her colleagues as well over many years now, and all have been fantastic. My husband (the sceptic until going to this practice). Has seen remarkable improvements to his work-related back problems, while I have benefited hugely from the holistic approach this practice encourages, enabling more embedded stress and health related issues to be successfully tackled.
Sandy treated me for extreme and debilitating arthralgia. Her treatment changed my life completely. I cannot recommend her enough. Her easy going professionalism and persona all help towards a relaxed and calm environment.