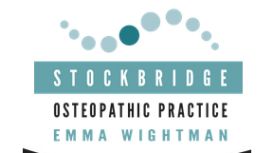 The Stockbridge Osteopathic Practice is a friendly and patient centered practice, in the heart of the Test Valley, offering unrivalled healthcare excellence in a relaxed and peaceful setting. Emma Wightman set up in Stockbridge in 2009, and strongly believes that everyone should have the opportunity to achieve better health and well-being.
By offering quality, value and exceptional experience, the practice is well respected and enjoys good relations with the local GP's and other healthcare providers.
---
Reviews and Ratings
I took my 5 week old baby to see Emma to ease her abdominal discomfort and for a general check-over after a long labour. After just a few treatments she fed and winded more easily and cried less frequently. Emma has a gentle and skilful approach with babies. I also visited Emma for treatment for myself post-natally which helped me to feel stronger. I have and would recommend Emma to anyone, especially to those with newborns.
After my 4 year son was diagnosed with Acute Glue Ear and referred to have have Grommets fitted I sort Emma's advice. Emma treated him with a course of Cranial Osteopathy. Emma's gentle, reassuring approach was wonderful. I was surprised at how quickly we started to see improvements in his hearing and was totally flabbergasted yesterday to find out that his Glue Ear has cleared up, he no longer needs grommets and the consultant has discharged him!