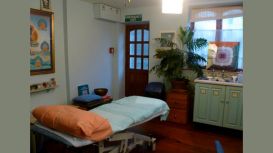 Welcome to Ulverston Natural Health Centre, Cumbria and Lake District's most well-known and most successful full-time Natural Health Centre. Established in 1990, Ulverston Natural Health Centre has helped thousands of people from all walks of life. At Ulverston Natural Health Centre, we provide treatments from caring well qualified health professionals for men and women of all age ranges.
Most of our therapies are available on a number of different days, with many evening appointments and some weekend appointments also.
---
Reviews and Ratings
When I looked in the mirror I could hardly believe it was me - the tone of my skin had changed, my cheeks had more colour and my face somehow seemed more alive... Moreover, the treatment had an immediate and noticeable impact on the length and quality of my sleep - which has improved immeasurably and which in turn has given me a real energy boost during the day.
I have no hesitation in recommending this form of treatment to anyone who has undergone major surgery as the overall general effects include pain relief; it provides a great sense of well being due to the increased energy in the body as well as a more relaxed overall state of mind.