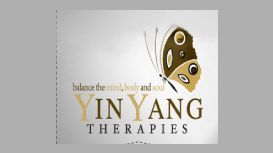 Yin Yang Therapies see health and well-being as a balance in the body of the two opposing and complementary aspects of Yin and Yang, both mutually restrict and depend on one another. In our body, the physical form belongs to Yin while the body's activities or physiological functions belong to Yang.
Many of us live very busy lives with never-ending 'to do lists' and can sometimes feel that we don't have any time left for treating ourselves. Some people will naturally continue with their busy schedules of juggling work, social events and a variety of other commitments whilst stress and tension builds up within them.
Taking a little time out for yourself to enjoy a massage treatment is one way to help conquer the stresses and strains that everyday life can bring and our aim is to help you to bring a natural balance to your life.
---
Reviews and Ratings
Indulged myself in a hot stones massage. Relaxed throughout and my skin looked brighter and healthier straight after the treatment. Well worth the money and time.
Thanks again for the tretament Sarah, has worked wonders for my tinitus and sinuses – very relaxing all round and would highly recommend to anyone.
Thanks for the Indian Head massage on Weds Sarah, was absolutely divine. Felt really relaxed and tension free afterwards.