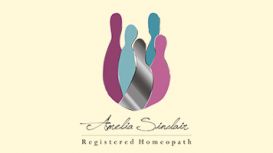 Homeopathy is a system of medicine which is based on over 200 years of development and research. Put simply, homeopathy is a way of treating illness which uses the body's own abilities to make itself well, based on the principle of "like cures like".
The aim of the homeopath is to treat the person and not the disease. It is not enough to simply suppress symptoms, if a person is to be healed the underlying cause of their disease must also be removed. Rather than treat each symptom in isolation the homeopath looks at the whole person and seeks to match this unique expression with a homeopathic remedy.
---
Reviews and Ratings
Homeopathy has made a huge positive impact on the health of my 7 year old daughter who was waking frequently through the night since the age of 4. The lack of sleep was effecting the whole family and also my daughter's school life. After one visit to Amelia Sinclair she began sleeping uninterrupted and generally seemed a positive / happier child. Amelia is a very kind and caring professional who is an excellent listener and has the ability to get your child to open up immediately. I would highly recommend Amelia Sinclair.
I have been really impressed with Amelia throughout our relationship as her being my homeopath. The symptoms that encouraged me to visit Amelia do not present themselves on a generally regular basis and I was skeptical how I would know if things had been successful. Nonetheless as I left my first session I had felt that we were on the path in the right direction. After a few follow up sessions I am still convinced we are on the right path and I am very pleased with the progress that has been made. I would recommend her to anyone interested in homeopath and also anyone who is skeptical because Amelia also has a wonderful demeanor that aided in my confidence in her and in homeopathy.