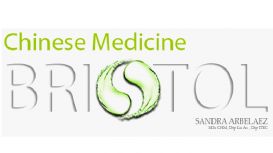 Chinese Medicine Bristol is run by Acupuncture and Chinese herbal medicine practitioner Sandra Arbelaez who offers tailored-made holistic care based on the principles of Traditional Chinese Medicine. Sandra aims not only to provide treatment for your existing symptoms, but to show you ways to prevent their recurrence and promote balance in your mind and body. Illness and crisis can be very difficult and confusing for us all, but they can also be turned into opportunities for healing, growth, and self-discovery. Sandra strives to promote better health and provide support and guidance in discovering the potential hidden within chronic illnesses and life crises which can ultimately inspire us and teach us how to live a healthier, happier, and more fulfilling life.
---
Reviews and Ratings
Sandra has been treating me for five years for chronic lower back pain caused by a childhood injury. She is a very gifted, and attentive therapist and a wonderfully kind and caring person. The diagnosis and treatments have always been very accurate and have helped reduce my back pain and enabled me to reduce my pain killers considerably. The acupuncture and Chinese herbs have also helped me deal with the withdrawal symptoms from heavy-duty pain killers, and cope with stomach problems resulting from taking tablets long term.
I went to see Sandra for Acupuncture treatment when I was experiencing acute pain in my lower back. I was curious and a little wary about having acupuncture but I found Sandra's approach very calm and her explanations clear. She was thorough and professional with taking my history and I found the treatment itself very relaxing and it turned out to be so effective that my back improved after the one treatment!! I look forward to seeing Sandra for further treatments in the future.