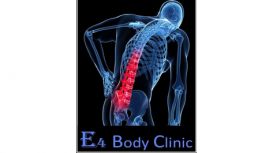 At E4 Body Clinic we believe that prevention is better than cure, and having and having treatment can help prevent aches and pains from developing at an early stage, which enables people to carry on with their daily routines without discomfort and will reduce the amount of sick leave employees are forced to take from work.
Our responsibility is to concentrate on aiming to prevent pain and injuries from developing and to always treat both the cause of the problems and the symptoms a person is suffering from simultaneously, by applying the appropriate treatment method or a combination of treatment methods. Patients are therefore provided with the most effective and professional treatment possible in every single session.
Treatment sessions are always catered to people's individual needs, so the correct method of treatment can be used every time, enabling a person's problems to be resolved as quickly and effectively as possible.
We have over 9 years experience working within the medical field treating people for many different ailments, both in the UK and China. We now run established clinics within the areas of Chingford and Highams Park.
We are registered with the Institute of Complementary and Natural Medicine (ICNM) and are a Member of the British Register of Complementary Practitioners (MBRCP).
---
Services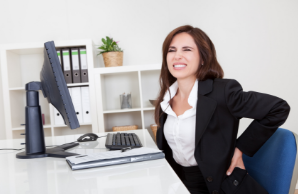 Computers have now taken over our lives and have made work and communication so much easier and more efficient than ever before BUT the downside to this are the side effects that come with us spending large parts of our days sitting working at the computer desk.
Most of us spend nearly all day sitting working behind a desk (some people do not even leave our desks to eat lunch) but as well as sitting at work, we also sit in the car or on the train during the commute to and from work, then we sit down to eat dinner when we get home, and then we sit on the sofa to watch TV before bed. Now that's an awful lot of sitting every day!
We as humans are not designed to sit down for very long periods at a time. Prolonged sitting alters our body's posture and eventually we become accustomed to it and start to naturally adapt to the bad positions we sit in. Even with the ideal desk/pc set up, the reason why back pain occurs while doing jobs that require us to sit for long periods is because after sitting for a while people start to slouch and lean subconsciously and bend towards the computer while working.
This causes a reaction of the body where the anterior muscles of the hips and thighs start to shorten, which causes low back pain around the lumbar and sacral regions and also a curvature change of the spine which can then lead to a sacro-iliac separation and also tightness in the latismus dorsi and piriformis muscles. This reaction can then cause sciatica and numbness down the legs where the muscles constantly pinch the sciatic nerve.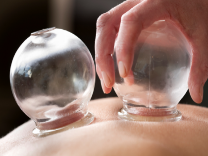 Blood stagnation in simple terms is where the blood becomes "static" (non-moving or very slow-moving) within the body. Blood is formed by the essence of the food and beverages we consume. Once formed, blood circulates with oxygen collected from the lungs through the cardio system within the blood vessels throughout the entire body. It therefore supplies the organs, skin, muscles, bones and tendons the vital nourishment of oxygen and nutrients, so we have the energy to be able to carry on doing our daily things.
Is Blood Stagnation the Cause of Your Pain?
We all know that blood circulates in our bodies but what you may not know is that aside from being a vital nutrient substance, blood can also be a cause of pain in our bodies.
This stagnated blood can be referred to as toxic blood, because it is absent of oxygen and nutritional substance. Our muscles become tight and hold on to the stagnated/toxic blood for too long, so the fresh blood supply to them isn't as effective as it should be.
How to reduce blood stagnation.
Blood stagnation is virtually impossible to prevent in the long term because it is naturally caused from a build up in our daily lives, from things like our jobs (especially desk work where we sit in an unnatural position for long periods), stress and also our diet.
There are things that can help reduce stagnation in the blood, such as drinking an adequate amount of water every day, having regular exercise and treatments such as acupuncture, massage and cupping therapy are very effective to alleviate and more importantly prevent blood stagnation from occurring.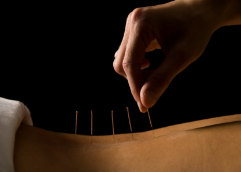 Acupuncture can be used to fix long-term internal problems, structural problems and to re-energize and restore balance to the body. Acupuncture is thousands of years old and can be used to treat many different conditions in today's modern day lifestyle, ranging from headaches to skin complaints but pain relief is its greatest success, such as back, neck and shoulder pain.
How does it work?
Extremely fine needles are inserted into specific point locations on the body which enhances the energy flow through the meridians to help regulate thebody's natural energy and keep people healthy and balanced.
The needles are usually left in for roughly 15 - 20 minutes and the patient can relax during this time. Its functions are to release tight muscles, remove blood stagnation and toxins (which are held in the muscles) and increase the circulation of blood and the flow of Qi (energy).
Reviews and Ratings
I went to the bodyclinic with a long term shoulder injury after nhs / gp route was not helpful. Having thought that the pain was just something I would have to live with I was amazed to be pain free and better than ever after only one session. Richard was friendly and professional and made me feel relaxed. He really knows his stuff and I wouldn't hesitate to go back to him.