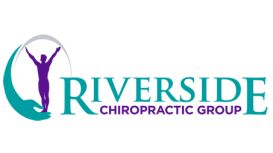 We will tailor-make you a specific treatment plan of action to meet your needs, goals & unique medical and physical condition. See the drop down menus above for more details on the common conditions that we treat each day; including low back pain, neck pain, shoulder injuries, headaches, nerve pain, feeding/crying disorders in babies, arthritis, & many sports-related injuries.
Riverside Chiropractic Clinic Aberdeen has been established for over 25 years. It has firm roots in the local community and has provided a very high standard of Multi-disciplinary care including Chiropractic, Acupuncture, Clinical Psychology, Physio, Sports therapy, Nutrition & relaxation massage to generations of families around the North East of Scotland.
People like you; people of all ages, different jobs & lifestyles can benefit from Chiropractic care. This is reflected in the variety of people and conditions seen everyday at Riverside Chiropractic Groups' Clinic's. Patients from both the North East of Scotland, rest of the the UK and sometimes even abroad come to the clinic to receive natural, drug-free healthcare.
Everyday we help people from new-born babies who have difficulty sleeping or feeding to the elderly with arthritis. Everyone from pro-athletes to manual office workers know o four standards of excellence in natural healthcare. There are very few occupations and lifestyles that have not been seen and treated in our 25 years, and all will find a warm welcome at Riverside Group.
Chiropractors specialise in the diagnosis and treatment of conditions which are due to mechanical dysfunction of the joints, particularly those of the spine, and their effects on the nervous system. They also work in preventative care for people with long term low back pain or neck pain.
---
Services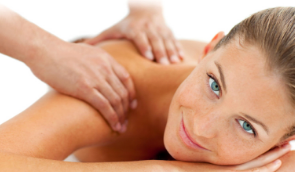 It is a healthcare profession that utilizes a natural, conservative, hands-on approach to treat conditions associated with the neuro-musculoskeletal system, without drugs and/or surgery.
There is a scientific and logical basis for chiropractic. Just as a mechanic looks for the root cause of an engine failure we look for the root cause of your biomechanical symptoms.
With this understanding, you can see how chiropractic fits in with other healthcare specialties to provide an integrated approach to treating neuro-musculoskeletal conditions.
What will happen during the exam?
Your chiropractor will take a complete history on your present complaint and past illness.
You will also be asked about family history, other treatments you have received, your job and other questions in order to determine the nature of your discomfort.
An examination will be performed to detect the nature of your complaint.
After taking a history and completing the examination, the chiropractor will determine if Chiropractic care is right for you.
The spine functions to protect the spinal cord which sends out nerve branches that send and receive signals for every cell in the body. The spine also functions to provide support and structure to the body.
The Chiropractor sees the spine as a series of motor units, each called a spinal joint complex. Each joint complex is composed of 2 vertebra, a disc between, the ligaments, muscles, fascia, blood vessels and nerves.
The Chiropractors' primary goal is to restore motion to a fixated (abnormally locked) joint & to reduce the tension/spasm in surrounding muscles.
They also look at the way the body moves and functions naturally to assess if there are abnormal movement patterns that have been adopted or bad behaviours that have led to the current condition of the spine and surrounding musculature.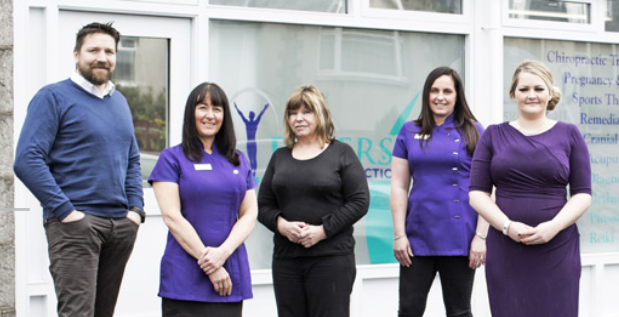 Although minor sports injuries are a common occurrence in professional sports and most teams have a staff of athletic trainers and close connections to the medical community, you might not have had access to the same level of care – until now.
If you pull a muscle or other niggling injury, it can hamper your efforts to enjoy your sport and stay fit. You may have ignored the pain and carried on with your sport for too long without treatment, and now find yourself with a chronic injury. It's not surprising that we often see people with:
Hamstring strains.
Calf strains.
Achilles tendon injuries.
Knee pain (Runners Knee).
Groin and thigh sprains.
Lower back pain.
Tennis elbow.
Shoulder sprains (rotator cuff injuries).
Tendonitis.
Our Sports therapist Carol McGregor, has worked with professional football teams, local rugby teams and marathon runners and one of our chiropractors, Dr Tom Butterfield, works with Aberdeen Football Team and previously with the Swedish under 21's football team as their head medical advisor.
Sports injuries are injuries that occur to athletes in sporting events. In many cases, these types of injuries are due to overuse of a part of the body when participating in a certain activity. For example, runner's knee is a painful condition generally associated with running, while tennis elbow is a form of repetitive stress injury at the elbow (although it does not often occur with tennis players). Other types of injuries can be caused by a hard contact with something. This can often cause a broken bone or torn ligament or tendon.
Reviews and Ratings
We do not have any reviews about Riverside Chiropractic Group available right now.