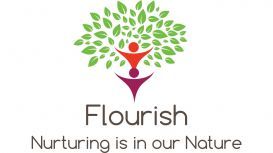 Complementary and Alternative Medicine Service in Glasgow.
Clinical aromatherapy, reflexology, reiki treatments and training, crystal therapy, quantum entanglement healing, energy medicine, shamanic healing and retrieval, animal reiki and healing, therapeutic horticulture and courses and workshops.
Flourish has a person centred approach, specialising in treatment plans that are as individual as you are, incorporating therapies in a down to earth way so that their many benefits can become a natural part of day to day living for clients. Therapeutic areas of expertise include massage, clinical aromatherapy, reflexology, fertility and menopause support reflexology, energy healing and metaphysical medicine, including reiki and crystal therapy, and shamanic healing.

Flourish also provides holistic therapy services to the animal kingdom, specifically Reiki sessions. Specifically qualified in Animal Reiki Practice and certificated by SARA, the Shelter Animal Reiki Association to support holistic health for companion animals.

Flourish facilitates Usui Reiki Training Courses: Level 1 – Introductory, Level 2 – Practitioner and Level 3 – Master and Master Teacher Training, including one to one tailored training.
Testimonials
Reflexology and Reiki Combination Session client
'Andrea has a lovely, relaxing set up at the Southside Counselling and Therapy Centre and I immediately felt at ease. Having booked the combined reflexology/reiki treatment and having had both before from other practitioners, I did have an idea of what to expect but was delighted by the quality of the experience. The treatment was deeply relaxing yet challenging at the same time. Andrea quickly tapped into deep rooted issues and offered clear and empathic ideas about post treatment self care. I plan to use the service as often as I can.'

Reiki and Shamanic Distance Healing client
'I went to Andrea to help with severe stress due to a difficult family situation. I was immediately put at ease by Andrea who is an extremely calm and gentle person. Just being in her presence made me feel reassured and relaxed. Andrea listened carefully to me and then explained the process of Reiki, she also carried out shamanic healing at a later date. I felt very much de-stressed and able to cope better with my situation at the end of the process. 'Gifted' is the word I would use to describe Andrea and her talent. I will most certainly be visiting her again and would not hesitate to recommend her to friends and family.'

'Andrea is an incredibly welcoming and calming therapist. I have been exploring a number of different treatments with her from reflexology to massage and reiki and cannot recommend her services enough. Andrea listens to her clients with care and provides a very personalised treatment rather than a 'one size fits all' method. She is incredibly reassuring and explains processes and their effects in detail. I've had great results and very enjoyable experiences. Even if its just out of curiosity or for something specific, its worth a try. I always look forward to my appointments.'

Client who received Distance Shamanic Healing and Power Retrieval
'Andrea is a thoughtful and insightful practitioner. I did a distance power retrieval with Andrea from Singapore, and it was amazing! Cannot recommend enough. I am looking forward to journeying with Andrea again soon. Thank you!'

Reviews and Ratings
We do not have any reviews about The Glasgow Osteopathic Centre available right now.